By H. Michael Steinberg Colorado Drug Crimes Criminal Defense Lawyer
Understanding The Basics Of Colorado's 2014 Marijuana Laws – How Far Can I Go?  Many questions still remain with the January 1, 2014 deadline looming – as of the date of this article – for the legal purchase of marijuana. As a Colorado criminal defense lawyer – needed to understand the new rules so I did some research online and here is what I found.
Colorado's New Recreational Marijuana (Pot) Laws   If You Are 21 Years Old Or Older – Here Is What You Can Do and Not Do
• You can possess / use / smoke marijuana.
• You can possess up to ONE ounce of marijuana total weight.
• You are allowed to grow up to six plants in your home, a household can grow a total of 12 plants for recreational use.
• You can purchase up to an ounce of marijuana at a state licensed pot shop IF you have a Colorado I.D. If you are an out of state resident – that purchase can be no more than one quarter ounce.
• You can share up to an ounce of marijuana with a friend, as long as you do not charge for the marijuana (this used to be called distribution whether you were paid or not)
Packaging – The marijuana sold in licensed "pot shops" will be labeled in such as way that the  potency and any non-organic pesticides or fungicides used in its cultivation will be listed. .
If You UNDER 21 Years of Age … It Is Easy.. Nothing Has Changed
• If you co not have a medical-marijuana card – use and possession of marijuana remains illegal for you .. (Recently, however, the City of Denver "decriminalized" this circumstance for persons who are 18 to 21….limiting the punishment to a fine only. The measure provides for fines from $150 for the first offense to $500 for the second offense and $999 for the third and all subsequent offense.)
Understanding The Basics Of Colorado's 2014 Marijuana Laws – The Limitations On The Legal Use Of Marijuana
• You cannot use – smoke – consume marijuana in public or anywhere else it is banned – especially near schools or on federal land.   • You cannot drive under the influence of marijuana if you are impaired.
A Colorado Marijuana DUID means that if you have 5 nanograms or more of THC in your system while driving, you are presumed to be driving impaired by the substance. As anyone who has studied this area knows "impairment" varies greatly from one person to another – and impaired driving is much harder to prove than you might expect. Experts in the area believe that long term or habitual marijuana smokers can retain 5 nanograms of THC in their bloodstream without impairment even if they have not smoked for more than 24 hours.
It is illegal to smoke or eat marijuana in a moving vehicle, but it may be carried in the car as long as it is in a closed container.
• You cannot sell, give, or in any way distribute marijuana for money or any other consideration to people under 21.
• You cannot transport marijuana out of the state – across state lines.
• You CAN smoke on private property if it is with the owner's permission. This includes the front porch – even if the appendage is visible from the street.
• You CAN grown marijuana but only in an "enclosed, locked space"  Will people get fired from their jobs for smoking weed?
NOTE THIS – What May Be Legal In the Eyes Of The Law – May Be Grounds To Fire You From Your Employment.
While recreational marijuana may be legel to use – employers still have the right to terminate your employment for it's use during working hours.
The Law Is NOT Retroactive – It Is Not Applied To Crimes Committed BEFORE It Has Been Made Legal In Colorado
Finally The Feds – The Federal Law Enforcement Agencies DO NOT Recognize Colorado's Right To Sell Marijuana BUT
The Feds agreed – in August of 2013 – to back off the prosecution of marijuana cases IF Colorado takes steps in the following areas:
– Preventing use by minors.
– Preventing pot that is grown for sale in the state from migrating out of state.
– Preventing the diversion of marijuana revenue to organized crime.
– Preventing state-authorized activity from being used as a cover for illegal activity.
– Preventing drugged driving and other adverse public-health effects.
It wil be a long and interesting year here in Colorado!
Understanding The Basics Of Colorado's 2014 Marijuana Laws
ABOUT THE AUTHOR: H. Michael Steinberg – Email The Author  – A Denver Colorado Drug Crimes Criminal Defense Lawyer  – or call his office at 303-627-7777 during business hours – or call his cell if you cannot wait and need his immediate assistance – 720-220-2277.
If you are charged with A Colorado crime or you have questions about Understanding The Basics Of Colorado's 2014 Marijuana Laws, please call our office. The Law Offices of H. Michael Steinberg, in Denver, Colorado, provide criminal defense clients with effective, efficient, intelligent and strong legal advocacy. We can educate you and help you navigate the stressful and complex legal process related to your criminal defense issue.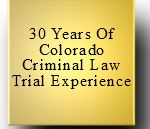 H. Michael Steinberg, is a Denver, Colorado criminal defense lawyer with over 30 years of day to day courtroom experience –  specializing in Colorado Criminal Law along the Front Range.  He will provide you with a free initial case consultation to evaluate your legal issues and to answer your questions with an honest assessment of your options.  Remember, it costs NOTHING to discuss your case.  Call now for an immediate free phone consultation.
Helping Clients To Make Informed Decisions In the Defense of Colorado Criminal Cases.
Contact A Lawyer with Three Decades of Experience as a Denver Criminal Attorney at The Steinberg Colorado Criminal Defense Law Firm Today.
Colorado Defense Lawyer H. Michael Steinberg provides solid criminal defense for clients throughout the Front Range of Colorado – including the City and County courts of Adams County, Arapahoe County, City and County of Boulder, City and County of Broomfield, City and County of Denver, Douglas County, El Paso County – Colorado Springs, Gilpin County, Jefferson County, Larimer County, and Weld County,…. and all the other cities and counties of Colorado along the I-25 Corridor… on cases involving ..Understanding The Basics Of Colorado's 2014 Marijuana Laws.